What liberties might J.S. Bach have taken with his own keyboard works? How might he have embroidered or expanded his own pieces? While musicians from earlier eras unabashedly answered those questions (such as Charles Gounod in 1853 with his "Ave Maria" on the C Major Prelude, and Louis Victor Saar in 1932 and Ruggero Vené in 1941 with their additions to the Two-Part Inventions), our current Urtext generation still seems generally reluctant to add anything to the score.
The present volume purports to counter such literalism, re-ignite creative interaction with Bach's text, and expand performance-practice horizons, by exploring the concepts of added lines, chorales, continuo parts, Durchgänge (lead-ins), da capo Verzierungen (ornamented lines on the repetition of a section or piece), original codettas, and original preludes.
Adding notes to Bach doesn't have to be limited to an occasional trill or mordent! Bach was prolific and daring. Why shouldn't modern keyboardists have the same spirit of adventure?
In this delightful volume, John Salmon has created jazzy accompaniments for J.S. Bach's Two-Part Inventions. The pianist playing the original Bach Invention does not need to change anything. e second pianist will add notes that convert Bach's original compositions to jazz!
For most of the Inventions, Bach's score is followed bar by bar. But for some, there is an added intro or a coda. Various styles come to life with the addition of the second piano part—jazz waltz, salsa, bossa nova, blues, boogie-woogie, and bebop.
There are direct quotations of George Gershwin, Dave Brubeck, Bill Evans and even Beethoven, as well as stylistic references to Celia Cruz and Jerry Lee Lewis. Jazz itself, like Baroque music, is an all-encompassing tradition reflecting a rich amalgamation of musical languages and genres.
This is the second volume of John Salmon's additions to keyboard works of J.S. Bach. His first, Add On Bach, called "playful, creative, and unique" by Clavier Companion, added notes in the style of Bach.
John Salmon's creative arrangements of these twelve jazz standards will appeal to pianists playing for a wide variety of functions, whether wedding receptions, anniversary parties, recitals, late-night get-togethers, or private home entertainment. Two musical landmarks from the 1920s ("Ain't Misbehavin'," "Stardust"), six from the 1930s ("All of Me," "Blue Moon," "Deep Purple," I'm in the Mood for Love," "Mood Indigo," "Over the Rainbow"), one from the 1940s ("Laura"), two from the 1950s ("Misty," "Take Five"), and one from the 1960s ("The Shadow of Your Smile") unite generations of music lovers. Salmon skillfully draws from several jazz styles such as stride piano, boogie-woogie, big band, bebop, and cool, but also invokes the classical tradition with references to Bach, Wagner, and Milhaud.
John Salmon, pianist
Publications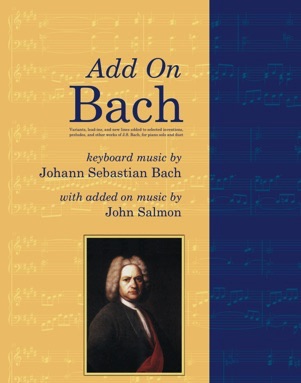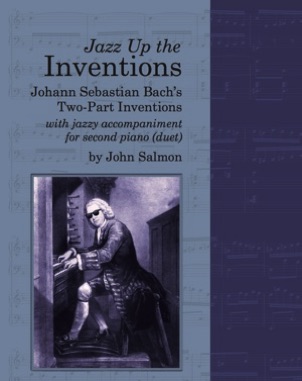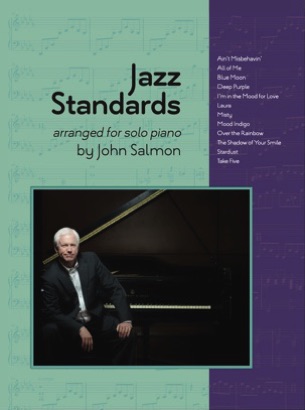 Conceived in the musical language of the nineteenth-century, Hebbel Lieder comprises John Salmon's four songs for baritone and piano based on Friedrich Hebbel's poems Nachtlied, Herbstbild, Erleuchtung, and Abendgefühl. Poet and dramatist Friedrich Hebbel (1813-1863) was one of the shining lights of Romanticism and an inspiration to several of the era's most famous composers, including Robert Schumann and Johannes Brahms who also wrote songs on two of the Hebbel poems in this set.
While the harmonies and textures of Salmon's Hebbel Lieder reflect traits of Schumann and Brahms, there are also links to later Romantics such as Gustav Mahler and Richard Strauss. Nachtlied (Night Song) is a gentle lullaby. Herbstbild (Picture of Autumn) depicts a spectacular autumn day, full of leaves and trees. Erleuchtung (Enlightenment) is a deeply existential reflection. Abendgefühl (Evening Feeling) begins with the image of dusk but evolves to a meditation on the human condition. These songs can be performed either individually or as a coherent set whose total performance time is just approximately ten minutes.